Salem Creek at Civitan Park

Salem Creek at Civitan Park
Winston-Salem, North Carolina
Pilot View, Inc RC&D and The City of Winston-Salem
Salem Creek is part of the Muddy Creek/Yadkin River system.  The project area drains a 42.8 square miles highly urbanized watershed.  The project site includes the reaches of Salem Creek that flow through Civitan Park and Winston-Salem State University property.   As such, it is a significant component and focal point along the 4.5 mile Salem Creek Greenway that starts at Salem Lake. Salem Lake and the Yadkin River are the main source of drinking water for residents of the City of Winston Salem and Forsyth County.
Pilot View contracted Clear Creeks Consulting to conduct assessments, prepare designs, obtain permits and provide construction management for this 5,240 LF restoration project.  Mr. Powell was Project Manager, Senior Scientist, Restoration Design Specialist and Construction Manager.  Ward Oberholtzer, P.E., Alonzo Childress, P.E., and Big Eagle Surveying provided engineering and survey support services. The project was constructed by North State Environmental.
Technical Services:
Coordination with Pilot View; Stormwater Section, DPW; Other City Departments -Sanitary Sewer Section, DPW and Recreation; NCDOT; Duke Power; Piedmont Gas; and Winston-Salem State University
Field calibration surveys at U.S.G.S. stream gauging stations in the western Piedmont of North Carolina;
Verifying the bankfull channel and developing estimates of bankfull discharge;
Topographic surveys and existing conditions base maps;
Hydrologic and hydraulic analysis;
Level II and III Rosgen stream classifications and channel stability assessments; collecting and analyzing bulk sediment samples
Identifying and surveying reference reaches;
Wetland delineations and natural resource inventory;
Developing design criteria; conducting sediment entrainment analysis;
Preparing Findings and Design Reports;
Preparing Concept, Preliminary and Final Design Plans, Erosion and Sediment Control Plans and Construction Documents;
Preparing permit application packages and conducting pre-application meetings for local, state and federal permits;
Construction management services.
PROJECT OBJECTIVES
The City of Winston-Salem, North Carolina was concerned about stream bank erosion, impacts to water quality, loss of flood storage capacity, damage to public infrastructure, and the loss of public land along Salem Creek in Civitan Park.
Salem Creek is part of the Muddy Creek/Yadkin River system.  The main sources of drinking water for residents of the City of Winston-Salem and Forsyth County are the Yadkin River and Salem Lake.  The NC Division of Water Quality completed a Water Quality Management Plan for the Yadkin-Pee Dee River Basin.  The study identified Muddy Creek subwatershed as one of the sub-basins having the highest number of impaired stream miles.  The Salem Creek/Middle Fork streams were classified as impaired.  The Plan recommended that the City of Winston-Salem and Forsyth County take corrective action.  Although the Salem Creek project reaches are downstream of Salem Lake the channel instability problems in these areas do have an impact on the water quality in the Muddy Creek/Yadkin River system.
The hydrologic regime of Salem Creek watershed has been historically altered by development in and around the City of Winston-Salem.  The channels of Salem Creek and its tributaries have adjusted in response to the alterations in watershed hydrology by incising (i.e., down-cutting), widening, and eroding laterally.  These channel adjustments, in addition to historic channelization work, maintenance dredging and floodplain fill decreased flood storage/detention capacity and increased flood conveyance to downstream reaches contributing to flooding problems throughout the City.
The stream bank erosion and sedimentation problems also represent a long-term maintenance issue as lateral erosion impacts trails, parking lots, recreational facilities, sanitary sewer lines, culverts, and power lines within the park.  In addition to the active recreational facilities in the parks (e.g., soccer and baseball fields, tennis courts, etc.), the stream is a focal point for various types of passive recreational activities (e.g., jogging, walking, biking, bird watching, and nature photography).  However, in its degraded condition it detracted from the aesthetic appeal of the natural setting the park provides the citizens of this community.
It was the City of Winston-Salem's intention to correct the stream channel instability problems, improve water quality, enhance and/or restore natural floodplain characteristics, protect infrastructure, and reduce the loss of public land by implementing an effective, long-term restoration plan for the sections of Salem Creek within the park property.
Project Components
Restoration of 2,700 feet of Salem Creek and 2,540 feet of tributaries
Removal of a rubble landfill and the creation of 5.7 acres of emergent and scrub-shrub wetland
Creation of 17 acres of riparian forest, grassland and wildflower meadow along the restored floodplain
Construction of two ½ -acre storm water wetland basins
Storm drain relocations and extensions
Installation of a mulched wetland trail system with timber footbridges; a paved biking and walking path; a pedestrian bridge that connected the Park and University.
Site Constraints
Multiple sanitary sewer lines,
Water main
Natural gas pipeline
Numerous power transmission towers and distribution-poles
Existing storm drain systems
Parking lots
Athletic fields
Existing Conditions – 2001
Upper Reach – Unstable F4 channel with tight meander bends; high, severely eroding banks, large debris jams and no floodplain access
Middle Reach – Deeply incised and historically straightened, the existing footbridge connecting Civitan Park and the University was collapsing due to bank erosion undermining its abutments.
Lower Reach – Incised C4/F4 over-wide channel with heavy sedimentation, eroding banks and failing slopes.  Multiple sanitary sewer lines endangered by gully erosion and streambank erosion. Duke Power transmission tower endangered by bank erosion along Unnamed Tributary
Upper Reach
Reconstructed as a stable C4 channel with a more regular plan form and improved floodplain access
An old bridge abutment situated beneath the Martin Luther King, Jr. Drive Bridge presented a particular challenge for the restoration of the upper reach.  The old abutment occupied one third of the bankfull channel width causing flows to be diverted into the existing left bank.  Working with NCDOT the old abutment was removed and the bridge reach restored as a B2 channel transitioning into the C4 along the upper reach
Middle Reach
Reconstructed as a stable meandering C4 channel rerouted through the adjacent floodplain.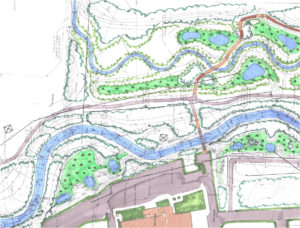 On the Civitan Park side of the creek, a six acre rubble landfill was removed from the floodplain to create 5.7 acres of emergent and shrub-scrub wetlands.  The straight, incised lower reach of Stadium Branch Tributary was rerouted through the wetlands as a meandering channel.   The relocated channel was designed to convey baseflow only.  As a consequence, all storm flows overtop the banks and spill into the adjacent wetland system providing water quality management for the 450 acres of previously unmanaged Stadium Branch urban subwatershed.
On the University side of the creek, the old Salem Creek channel was backfilled and the floodplain graded to create a ½-acre wetland/water quality pond.  This pond manages storm water runoff from the University's Administration Building and adjacent parking lots.  This required designing new inlets, diverter boxes and drop-manholes to route runoff into the wetland pond.
Lower Reach
Maintained existing C4 meander geometry, but constructed a narrower cross-section and improved floodplain access. Stabilized eroding streambanks and failing slopes, repaired gully erosion, protected existing public and private  utilities. Created stormwater water quality wetland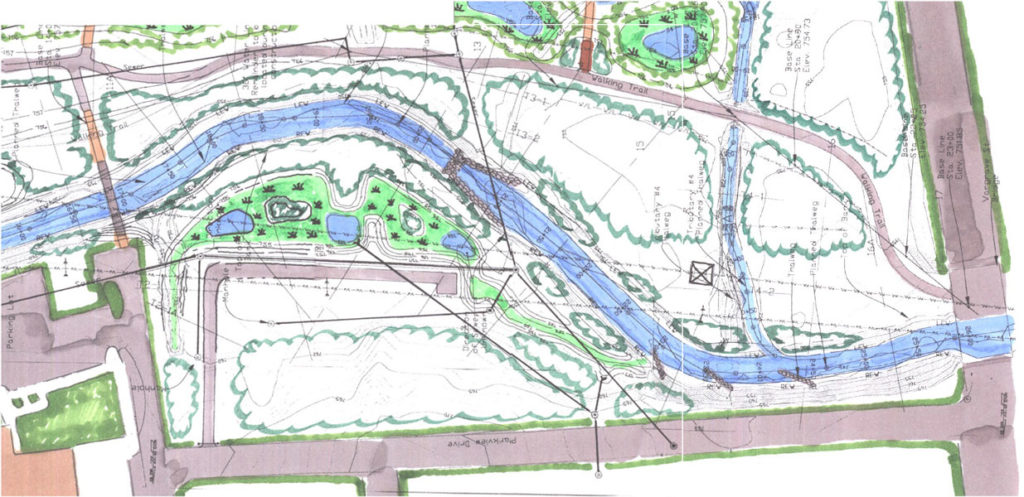 At the upstream end of the lower reach a 10-foot deep gully had eroded below a storm drain outfall.  The gully erosion had exposed a 48-inch sewer interceptor on the University property.  The gully was backfilled and stabilized.  Stormwater runoff from the outfall was conveyed into a second ½-acre wetland/water quality pond constructed in the floodplain along the lower reach of Salem Creek.  After the design was completed the University constructed new parking areas above the project site.  This required designing new inlets, diverter boxes and drop-manholes to route runoff into the wetland pond.
An elevated 18-inch sanitary sewer line crossing was a major constraint for the restoration of this reach.  The eroding banks adjacent to the sewer line were graded and stabilized.  Rock vanes installed upstream and downstream of the sewer line to divert storm flows toward the center of the channel and away from the newly stabilized banks.
The deeply incised lower section of the Unnamed Tributary that enters Salem Creek in this reach was reconstructed as a stable B4 transitioning into a B2 channel with log/boulder steps and pools.
Thirty-foot high unstable slopes along the University side of the creek also presented a challenge.  Because the top of slope was only five feet from the sidewalk along a public street it was not possible to grade the slopes back.  Instead the channel was shifted away from the toe of slope and the slope reconstructed utilizing toe-benches, soil fabric lifts with live branch layering, and erosion control matting.  Rock vane structures were installed to divert storm flows away from the newly stabilized slopes
"When I tell people I was birding at Civitan Park, they usually respond, 'Where's that?'  Unless you bike or jog along the Salem Creek Greenway, you probably don't know about this wetland and natural area.  It sits along the greenway behind Winston-Salem State University's Anderson Center.  The small park demonstrates how a natural area can benefit both people and wildlife". (Excerpted from article in Winston-Salem Journal, July 8, 2008).