Free Nancy Branch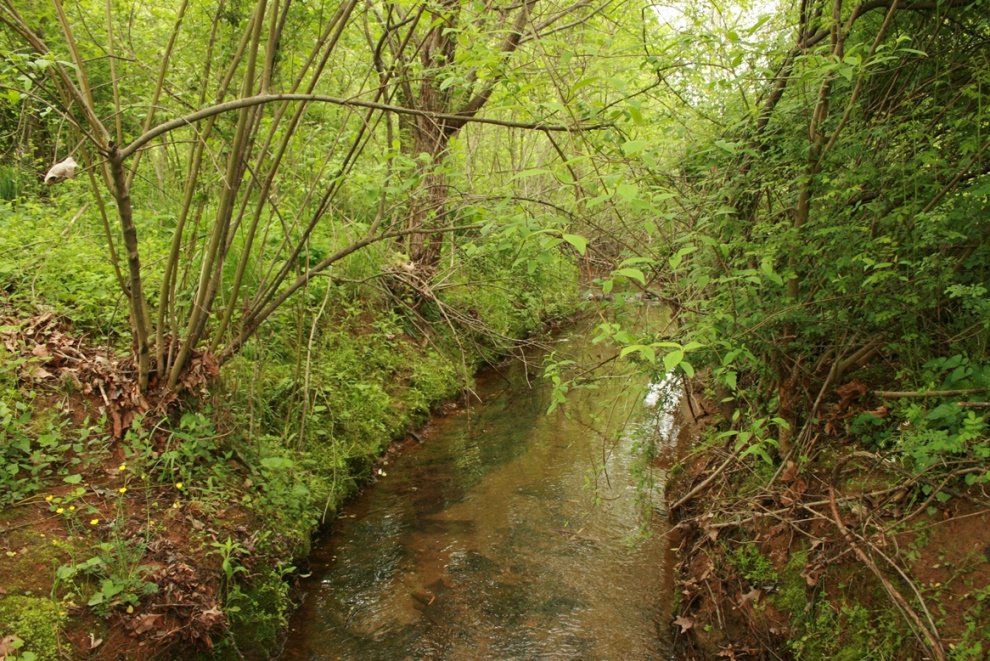 Free Nancy Branch
Statesville, NC
Pilot View RC&D and City of Statesville Department of Recreation and Parks
Free Nancy Branch, a tributary of Fourth Creek and the Yadkin River, drains the City of Statesville. Statesville is located in Iredell County in the west-central section of North Carolina and is situated along the eastern edge of the Western Piedmont physiographic region. The Free Nancy Branch watershed area is 1.03 square miles (659 acres) at the downstream end of the project. Clear Creeks Consulting was contracted by Pilot View RC&D to conduct an assessment, develop restoration design plans, obtain permits and provide construction management services for the 2,280 LF project reaches.
Mr. Powell was Project Manager, Senior Scientist, Restoration Design Specialist and Construction Manager. Ward Oberholtzer, P.E., and Big Eagle Surveying provided engineering and survey support services. The project was constructed by North State Environmental. The project was completed in 2000.
Technical Services:
Coordination with Pilot View and Department of Recreation and Parks
Field calibration surveys at U.S.G.S. stream gauging stations in the western Piedmont of North Carolina
Verifying the bankfull channel and developing estimates of bankfull discharge
Topographic surveys and existing conditions base maps
Hydrologic and hydraulic analysis
Level II and III Rosgen stream classifications and channel stability assessments
Identifying and surveying reference reaches
Developing design criteria
Preparing Findings and Design Report
Preparing Concept and Final Design Plans, Erosion and Sediment Control Plans and Construction Documents
Preparing permit application packages and conducting pre-application meetings for local, state and federal permits
Construction management services
PROJECT OBJECTIVES
The City of Statesville, North Carolina was concerned about streambed and streambank erosion, damage to public infrastructure, and the loss of public land along Free Nancy Branch in Newtonville Community Park. Due to existing streambank erosion and sedimentation problems, and the potential for down-cutting and lateral migration of the channel, the stream represented a long-term maintenance issue for the trails, culverts and bridges within the park. The stream is a central feature or focal point for various types of recreational activities (e.g., tot lot, picnicking, jogging, walking, biking, and basketball). However, in its degraded condition it detracted from the aesthetic appeal of the natural setting the park provided the citizens of this community.
The City of Statesville was working with Pilot View, Inc. to correct the stream channel instability problems by implementing an effective, long-term restoration plan for the section of Free Nancy Branch within the park property.
Design Approach
Reconstruct unstable G5 and G4 reaches as stable E5, B4c and B2 reaches with a more regular planform (i.e., larger radii of curvature and longer meander wavelength)
Establish a floodprone area along at least one side of the restored reaches and along both sides of the channel where feasible
Establish a better angle of repose on unstable banks
Provide grade control at key points along the channel to maintain bed stability
Provide long-term lateral control by reestablishing bank vegetation composed of native trees, shrubs and grasses
Design Elements
Due to the highly erosive nature of the streambank and floodplain soils along the project reaches there was concern regarding the need for immediate stabilization of the restored banks. To protect against failures during the sensitive period prior to establishment of permanent woody vegetation, the new banks were constructed utilizing soil fabric lifts.
Rapid establishment of woody vegetation was accomplished by incorporating live cuttings between the lifts and live stakes driven into the top of the lifts along the channel margin.
Along the middle reaches with mature trees and shrubs eroding banks were stabilized by installing toe benches or live crib walls along the lower bank and excavation of a floodprone bench along the opposite bank.
Grade control was provided by installing constructed boulder-cobble riffles along lower gradient reaches and log-boulder step pools along steeper reaches.
Existing Conditions
Construction
Post Construction
2012