Chadric Creek

Chadric Creek: Restoration of Historic Trout Habitat in the Upper Mitchell River Watershed
Conducted field studies and data collection including; verifying the bankfull channel and developing estimates of bankfull discharge; Level II and III Rosgen stream classification and channel stability assessments; and identifying and surveying reference reaches.  Developed preliminary design, final design and construction documents and prepared permit package for state and federal permits.  Provided on-site construction management during construction
Acknowledgements
The Project was designed by Clear Creeks Consulting with engineering support services provided by Wolf Creek Engineering.
The Project was constructed by North State Environmental, Inc.
The Project was designed and constructed as a component of the Level IV – Natural Channel Design training course sponsored by the Resource Institute and  Pilot View RC&D and taught by Dr. David Rosgen in October 2011.
Problem Statement
In the 1950's the lower reaches were dammed and piped, 100% of baseflow diverted to recreational fishing ponds.
Eliminated in-stream habitat along project reaches and created a barrier to fish migration into the headwaters of the creek.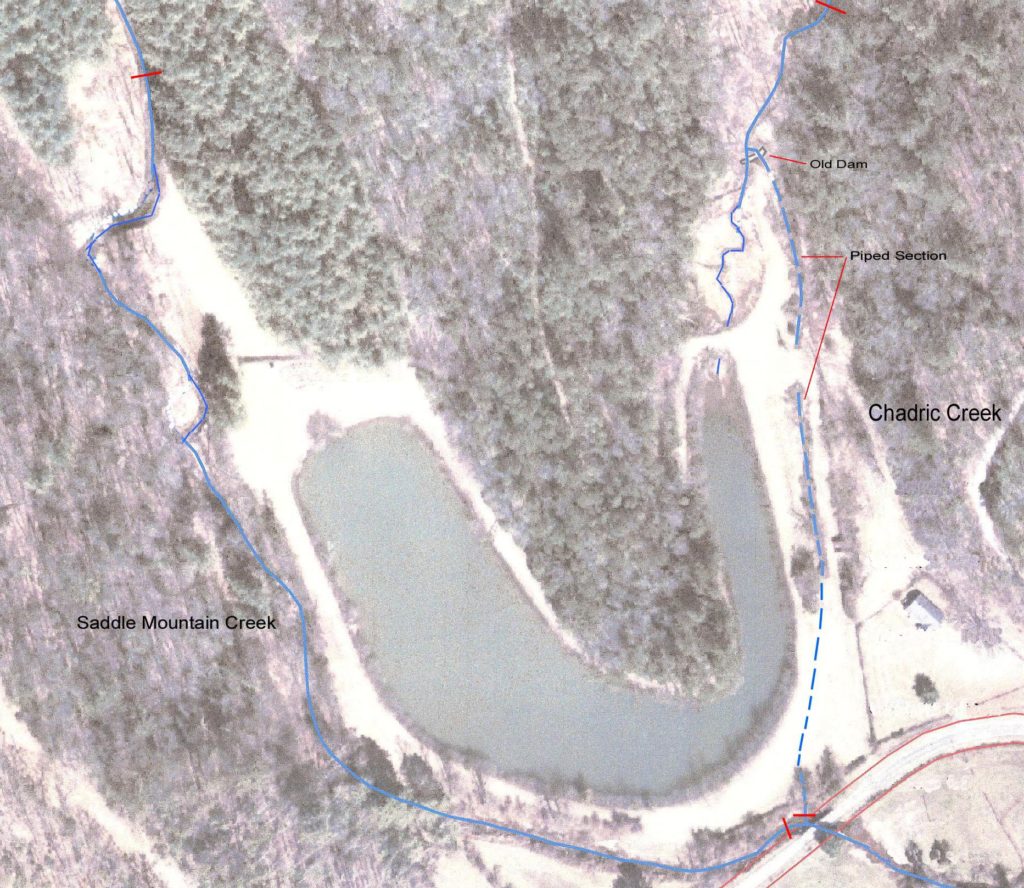 Restoration Objectives
Restore unstable reaches upstream of the old dam.
Restore fish passage to upper reaches.
Restore in-stream habitat along piped reaches.
Maintain emergent and scrub-shrub wetlands in the upper pond.
Maintain recreational fishing pond.
Project Details
Along the 340 LF of the upper reach,  channel geometry and slope were modified to improve overall stability, sediment transport capacity, and in-stream habitat.
An 85 LF section of the channel was relocated away from a steep, failing high terrace.  The abandoned channel was maintained as juvenile fish habitat with 10% of baseflow diverted through old channel.  All eroding banks along the upper section were stabilized.
The old low-head dam was removed.  The piped sections were day-lighted and 900 LF of stream channel was constructed across an old field area adjacent to the pond.
Rock and roll riffles, riffles with converging boulder clusters, hook-log run structures, and toe wood installed along all restored reaches to reduce near-bank stress, provide grade control, dissipate energy, and create in-stream habitat for macroinvertebrates and fish.
Streambanks of newly constructed channel were stabilized with alder transplants harvested from perimeter of fishing pond.
Although 90% of the baseflow is now conveyed by the newly constructed channel, approximately 10% is still diverted to maintain the emergent and scrub-shrub wetlands in the upper pond, as well as the recreational fishery in the fishing pond.